Archive for the 'Spanish' Category
With thanks to my sister, who managed to smuggle this into the country when returning from a holiday in Mallorca last year.
Deep yellow, crumbly, rubbed in olive oil and dusted in paprika. This is the mature version of a cheese from a small dairy on the northern tip of Menorca.
The paprika gives it a very appealing orangey tan coloured rind, and the way the pate flakes is reminiscent of mica.
It has a good strong cheesy smell, but nothing that makes it distinct.
Texture wise, it's somewhere between a Manchego and Parmigiano. Dry and crumbly with a slight chewyness, together with the soft crunchiness of lactic acid crystals (or maybe salt).
The flavour is good, strong and robust, with no acidity, very similar to a good strong Cheddar.
All in all, a good tasty cheese.
Produced by: Lacto Industrial Menorquina.
Reviewed by Nick & Olympia, 2013.





(3.5/5)
This very attractive looking cheese with its pale almost translucent paste and beautiful red/maroon rind promises much.

Spanish made, it looks, in some ways, similar to a Manchego, but made with goat's milk and washed in red wine.

This leads to high expectations, but sadly these are not met. It has surprisingly little flavour. Slightly goaty, slightly reminiscent of Manchego, but mainly dull and tasteless like a Provolone. The only exciting bit is the rind which has a slightly perfumed flavour.
Purchased from Tesco.
Reviewed by Nick & Olympia, 2012.





(1/5)
Cabrales is a Spanish blue cheese made primarily from cow's milk but often with ewe and goat added.It has a grey/green colouration and a crumbly texture. It's flavour, however, is a somewhat acquired taste.

This cheese should come with a warning. Tasting is not for the feint of heart.

It starts off pleasant enough, it's paste is initially creamy, but then something awful happens. The acrid taste hits you like you're chewing on a wasp, sharp, acid, bitter. It instantly dries the mouth, turning it inside-out and making it difficult to swallow. Then it burns and burns… and then it burns some more. I can only liken it to licking the corroded contacts of leaky PP3 battery.

Once swallowed, the bitter aftertaste lingers and it leaves you with a sore throat.

This is the vindaloo of the cheese world. Used, I'm sure, by young, testosterone charged, Spanish men, as a post drinking session test of machismo.

It is worth tasting, if only for the experience, but it is advisable to have a large glass of water close to hand.
Tasted at La Fromagerie, London (no, we didn't buy any)
Reviewed by Nick & Olympia 2010





(0/5)
A hard whitish sheep's milk cheese, coated in a synthetic waxy inedible rind.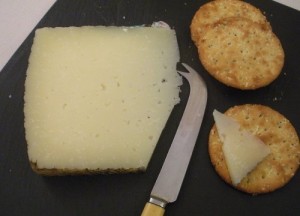 This Spanish cheese becomes almost translucent, from the outside in, as it ages so it is easy to see whether it is worth buying. Ideally, you want to look for a translucent edge about 1cm (3/8″) deep.
Biting into manchego is deeply satisfying. The slight crunchiness of the lactic acid crystals together with its firm almost wax-like texture can be quite sensual. The flavour is rich, robust, slightly nutty and embodies the essence of what you expect a cheese to be.
Great just to nibble on whilst sipping a glass of wine, but also very good melted in a warmed ciabatta with tomato, onion and olives.
This cheese is an old favourite of ours and a yard-stick by which others are judged.
Purchased from any supermarket (the quality is fairly reliable).
Reviewed by Nick & Olympia.





(5/5)