Archive for October, 2013
This appealing soap-bar shaped cheese is made with Jersey cow's milk, giving it a golden yellow colour and creamy texture.
Covered in a thin, sticky dark brown mouldery skin, it smells like damp stone. The skin is a little odd because it can almost be peeled off.
The pate is a creamy, golden yellow colour with dark contrasting bottle green veining. The texture, like brandy butter, soft and buttery, yet it breaks and crumbles under pressure.
It melts in the mouth with a sharp, blue flavour. It's strong, but not aggressive, with a metallic "twang" and a slight fruitiness.
Note. As it ages, these interesting qualities fade and it can become unexciting.
Produced by: Two Hoots Cheese
Purchased from: Cheese Please, Lewes.
Reviewed by: Nick & Olympia 2012 & 2013





(3.5/5)
Always on the lookout for cheeses we haven't tried, I found this in a Polish delicatessen. It's actually Romanian and probably their equivalent of vacuum packed, supermarket cheddar.
Ours was a small truckle, but it also comes in blocks and a plait (although I can't imagine how one would plait cheese). It comes from Brădut, which is an area of Romania. This one was the smoked version, having a slightly darker appearance than its unsmoked cousin.
It is a softish hard cheese with a rubbery texture.
The flavour is quite bitter with a strong acrid smokey taste, but largely unexciting. Good with garlic sausage on crusty bread.
Produced by: Tudia Lactate, Romania
Reviewed by Nick & Olympia, 2012





(2/5)
The first thing that hits you about this cheese is its smell. Quite literally, in the face, with the soggy end of an old floor mop. Oh! what a stink! It smells like a zoo's reptile house! But… my word, is it good!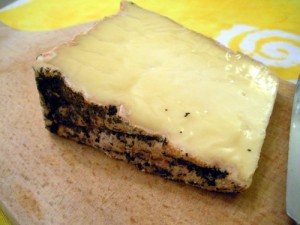 This cheese starts life as an ordinary Caerphilly from Somerset. Then it's dragged, kicking and screaming, to Godstone in Surrey where some strange and evil magical rites are performed on it. The Caerphilly is washed in Kentish wine and covered in mint and lemon verbena. As it matures, it turns into…

… the dark lord TORNEGUS!

Sticky. wrinkly, pinkish orange brown rind, coated with the blackened remains of the herbs.

The pate is yellow and sticky, darkening towards the rind. Slightly crumbly but also soft and oily. Almost spreadable close to the rind.

The taste is bitter, strong and pungent, like a good smelly Alpine cheese such as Morbier, Appenzeller or Fontina… times 10.

It won't be to everyone's taste, because it is strong, but if you like strong smelly cheeses, it is fantastic!
Produced by: Eastside Cheese Company, Surrey.
Purchased from Cheese Please, Lewes.
Reviewed by Nick & Olympia, 2013





(4.5/5)