Archive for the '5 Stars – Excellent' Category
Brown paper packages, tied up with string, this is one of our favourite things. Like the unassuming gift, wrapped in brown paper, that turns out to be something wonderful, Banon does not disappoint.
This little cheese is wrapped in chestnut leaves, tied up with raffia. Unwrapping reveals a soft, cream coloured cheese with a dusty white mould flecked dark spots from contact with the leaves.
The smell is slightly goaty, musty, with a smell of autumn leaves (unsurprisingly).
The pate is a greyish creamy white with a soft, smooth texture like liquid velvet.
This texture is just wonderful, that velvety pate is orally sensual. The flavour is delicately goaty, slightly nutty, with a slight bitterness. It has a seductive quality that is hard to describe, suffice to say it is ultimately satisfying and very moreish.
Purchased from Champagne + Fromage, London.
Reviewed by Nick & Olympia, 2017





(5/5)
The most visually striking thing about this cheese is the presence of a thin dark grey line though the centre of its pale ivory coloured paste.
This grey line is actually a layer of wood ash. Traditionally, the cheese was made from the curd from two milkings. The ash was sprinkled over the morning curd to protect it during the day, and then the evening curd was poured on top.
This is one of our favourite cheeses. The paste is soft and flexible with a sweet, milky, farm yard smell. Though typically Alpine, in many respects, Morbier captures the best of this. Rich and creamy, buttermilky and nutty with overtones of fresh cut hay and the farm yard. Very satisfying, to nibble and savour with a glass of wine… DELICIOUS!
The original purchase for this review came from Selfridges. However, more recently, a piece has be bought from Tesco

Remarkably, the Tesco sample was better than one purchased in France.
Purchased from Selfridges, London.
Reviewed by Nick & Olympia, 2010





(5/5)
---
Update
To our delight, we recently discovered that the French also produce an aged version of Morbier.
Thinner than the usual variety (presumably due to shrinkage), but a dark yellow colour, becoming almost brown near the edges. It looks like it's been kicking around for while, but… Oh my word! None of those subtle features of its younger sister, this is full force and in your face, intense and pungent. It may be too strong for some, but if you like Morbier and strong cheese, it is definitely worth seeking out.
Made in the mountains of northeast Switzerland, Appenzeller is typically alpine in taste and texture, but as it ripens, it becomes so much more.

Appenzeller is washed in herb imbued brine sometimes with added wine or cider. The hard rind is browny yellow often wrapped in printed foil from the manufacturer. The paste is a light golden yellow in colour with the occasional bubble.

When young, it has a sweet buttermilk smell and a mild nutty flavour.

As it ages, the sweet innocence of youth is lost to a lustful decadence, that is at the same time beautifully sensual and utterly filthy. There is something very sexy about Appenzeller, together with the smells of grass, milk and cowshed is a like a romp in the hayloft with the farmer's daughter.
Reviewed by Nick & Olympia 2012.





(5/5)
This Yorkshire made hard goat's milk cheese, wrapped in its dark green wax coating, with brilliant white paste and dusty sage green veins, is immediately visually striking.

On first tasting, there is a subtle goatiness and a smooth creamy texture with the fresh flavour that some goat's cheese have. As the goatiness quickly fades, it makes way for a distinct blueness, that is again subtle and delicate.

Its complex mix and broad range of flavours are unusual but pleasing, as they do not compete but compliment one another in an extremely satisfying manner. Sat atop a Cornish Wafer and eaten with a glass of crisp white wine, this cheese is a truly delightful experience.

UPDATE – Be aware! – This cheese is better when young. If it gets too old, it can turn to the dark side. It loses it's beautiful subtleties, becomes extremely overpoweringly blue in flavour with the throat attacking Cabrales effect.
Purchased from Cheese Please, Lewes.
Reviewed by Nick & Olympia 2012.





(5/5)
Gorgonzola is possibly the most famous of Italian blue cheeses. It is reputed to be very strong, but its reputation is ill founded even in its strongest form.There are three main varieties of gorgonzola: dolce (meaning sweet or mild); piccante (meaning strong or pungent) and stagionata (meaning seasoned or mature).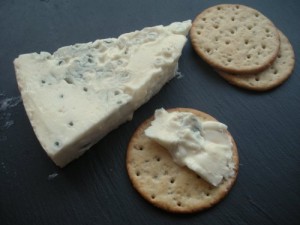 The dolce is very mild indeed, subtly blue, very creamy and unoffensive to those that may not like stong cheeses.
Its piccante cousin is visually greener with much more pronounced veins of mould. Taste wise, it is sharper and more acid, but with the same creamy, gooey texture. Though its name might suggest a stronger flavour, it is only slightly stonger, it's the acidity is the main difference.
Stagionata is much firmer with the same amount of mould as piccante, but it has now lost its acid bite. Instead, it has become much more flavoursome, with a good robust blueness, yet mellow.
Reviewed by Nick & Olympia
Dolce





(4/5)
Piccante





(3.5/5)
Stagionata





(5/5)
A hard whitish sheep's milk cheese, coated in a synthetic waxy inedible rind.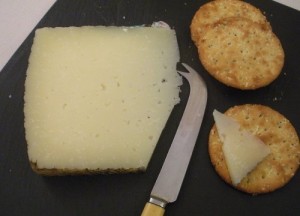 This Spanish cheese becomes almost translucent, from the outside in, as it ages so it is easy to see whether it is worth buying. Ideally, you want to look for a translucent edge about 1cm (3/8″) deep.
Biting into manchego is deeply satisfying. The slight crunchiness of the lactic acid crystals together with its firm almost wax-like texture can be quite sensual. The flavour is rich, robust, slightly nutty and embodies the essence of what you expect a cheese to be.
Great just to nibble on whilst sipping a glass of wine, but also very good melted in a warmed ciabatta with tomato, onion and olives.
This cheese is an old favourite of ours and a yard-stick by which others are judged.
Purchased from any supermarket (the quality is fairly reliable).
Reviewed by Nick & Olympia.





(5/5)