Archive for the 'Washed' Category
This is one of the first cheeses we ever reviewed. However, we weren't taking photos at this point. Nearly nine years later, we found some for sale in a visiting French market.
Many years ago, we decided to start taking notes about the various cheeses we had tried. This was one of a handful of cheeses included in that first week's record. We recorded it as "Petit Tourtain". Four months later, we reviewed it again under the name "St. Albray", completely unaware that it was, in fact, the same cheese.
To be honest, we're still slightly confused about the naming of the cheese. It is understood that St. Albray is the recognised name of the cheese. Normally, it is made in a large 1½Kg form, with the smaller (200g) version being referred to as "petit". Seeing as the cheese is not protected by AOC status, it is entirely possible that other cheesemakers around France are producing bootleg versions.
The first thing we notice about the cheese is it's six lobed flower shape. The rind is a pinky / orange colour dusted with white.
The pate is a pale cream colour, soft, slightly rubbery with a waxy texture. It has almost no smell at all.
The taste is very delicate, slightly salty, bittering slightly closer  to the rind.
In summary, it's not a very exciting cheese. The best things about it are the texture and the fact that it's pretty. It would make a good addition to a cheeseboard for non-cheeselovers.
We have reviewed this cheese three times now, and our opinion hasn't changed.
Reviewed by Nick & Olympia, 2010 & 2019





(1.5/5)
Just when you thought Camembert couldn't get any more interesting…
…they cut off the rind, dip it in a Calvados and cider mixture, and then roll it in biscuit crumb. How wonderful! (Calvados is a brandy made from apples rather than grapes.)
The result is this rather crusty appearance with gooey, yumminess oozing out.
The crust smells very strongly of fermenting fruit with a slight disinfectant smell about it. The pate is typical of a Camembert, pale yellow and gooey with identical creamy, sticky texture.
The taste is an interesting mix of bitter, sweet and fruity with chemical, acetone notes, a bit like pear drops and cellulose varnish. There is also, unsurprisingly, a strong alcoholic element in this mix. The strong aftertaste has a pronounced metallic quality.
In closing, it is an interesting cheese. One to impress guests with, because of it's unusual and unique nature. As a cheese to savour and enjoy, not so much. It is a little intense, best eaten in small quantities.
Purchased from: Champagne + Fromage, London
Reviewed by Nick & Olympia, 2017





(3.5/5)
Now there's a cheese that looks like a proper rustic, traditional farmhouse cheese that has been made for many generations. It is however, a relatively modern creation, first produced in 1976.
From the rugged, but lush Atlantic coast of the furthest south western corner of Ireland. The Beara Peninsular, County Cork, is home to the herd of Friesian cows that provide the milk for this cheese, giving it almost alpine like qualities.
On the outside, its course orangey, light brown rind smells somewhat like a Parisian concrete pissoir: earthy with an overpowering ammonia content.
The pate, is rubbery, soft and yielding, with a waxy feel and look. The smell is pleasantly milky with no trace of the ammonia that so dominates the rind.
The smooth, waxy texture has a mild, slight bitter edge at first bite, that quickly fades, revealing a subtle Morbier like herbaceous, alpine flavour with vague, but elusive hints of caramel that you're never really certain were there.
All in all, it's a good cheese. Pleasant, but not terribly exciting.
Manufactured by Milleens Cheese Ltd.
Purchased from Cheesology
Reviewed by Nick and Olympia, 2018





(3/5)
Époisses lays claim to being the smelliest cheese in the world. So smelly and offensive, that open carry is forbidden on the Paris Metro… apparently.
This is how it is presented in shops: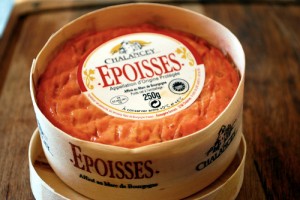 …however, unless you purchase the whole forme, this is how it will appear when you get it home: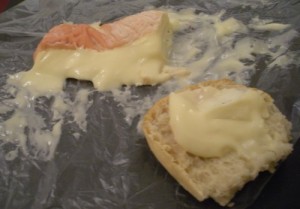 The origins of this cheese date back to the 16th century and those naughty Trappist monks putting alcohol in everything. The cheese is washed with a mixture of brandy and brine. Though it is highly unlikely that the monks knew it at the time, a particular strain of bacteria (brevibacterium linens), notably responsible for smelly feet, was a key part of the recipe.
A popular cheese, it continued to be manufactured by many farms in the area. Then due to WW2, production ceased. The recipe was never recorded and only passed on from generation to generation through word of mouth.
Luckily, in 1956, the Berthauts, a couple of farmers near Dijon, had the foresight to revive the cheese and sought out the last surviving individuals who knew how to make it.
Époisses has a sticky orange rind. Did I mention, it's also rather smelly? Maybe not as bad as expected by its claim of "the world's smelliest cheese", but certainly very pungent. Sweaty, smelly socks with a hint of slurry. It sounds horrible but to the hardened cheese connoisseur, it's heaven (yes, we're weird like that

). Sometimes, there is a strong smell of ammonia, but more about that in a moment.
The inner pate is a light creamy colour and should be soft and gooey or runny depending upon ripeness.
The texture is deliciously smooth and creamy and the flavour, perhaps surprisingly, is quite delicate. The pungent aromas are still present in the taste, but very subdued. There is also a wine reaction, that so often occurs with washed cheeses, in the form of delicious fruity notes that magically appear.
A note of warning. Éposses is one of those cheeses that really needs to be stored properly in order to get the best out of it. It is therefore, highly recommended that it be purchased from a proper fromagerie. Supermarkets do sell it, but very often it will lack the expected pungency and gooey decadence. Typically, supermarket sell-by dates are too short for refrigerated storage and the cheese is not fully ripe by the date indicated. In the opposite extreme, it can also become over-ripe and bitter, the aforementioned ammonia smell is a good indicator of this.
Époisses is a real classic cheese that is famous throughout the world. Don't let bad supermarket experiences put you off, when this cheese is good, it is awesome.
Reviewed by Nick & Olympia, 2012





(4/5)
Specially commissioned by La Cave à Fromage, one could possibly guess from the name that this is a goat's cheese washed in some sort of alcohol… and you would be correct (though we seriously hope that "Billy" is only a general reference to goat rather than specific).
This starts life as a basic unpasteurised goat's cheese made in the West Midlands. Then La Cave à Fromage snatch it away from its innocence and imbibe it with cider matured in whiskey barrels. It is then locked away in a dark, cool room for three to four weeks.
The results is rather spectacular.
The orangey coloured rind is very wet and sticky, with whitish cream pate, that darkens toward the edges.
The smell is like a delicate reminder of the boys locker room at middle school. Sweaty, but without the pungency puberty brings.
The texture thick and creamy, but the flavour consists of a whole list of adjectives: sweet, fruity, tangy, sharp, salty, goaty and perfumy. The latter being enhanced with a sip of white wine.
In conclusion, a very complex, but highly enjoyable cheese. Definitely one worth trying.
Produced by La Cave à Fromage
Purchased from La Cave à Fromage, Brighton.
Reviewed by Nick & Olympia, 2013





(4/5)
We were quite excited to received this gift from some friends, when they returned from a trip to France. It is washed in Calvados and dusted with ginger (to give it an aphrodisiac effect, apparently). Oozing and collapsing under its own decadence, it promised much and we could barely wait for our Sunday cheese fest to try it.
Looks fantastic, doesn't it?
It has a mild smell that is slightly cheesy, but nothing more. The pate is soft and gooey around the edges, but firm in the middle.
The flavour is initially sharp, especially in the firmer centre, with a slight bitterness. Sadly, we detected no hint of Calvados nor ginger, which was actually rather disappointing.
A voluptuous goddess of love!…Washed in Calvados!… Dusted in ginger!… One expects it to be exciting… provocative sensuality, velvety smooth, with an intoxicating richness and a little touch of spice. This was very much a plain Jane.
As for the aphrodisiac effects, we didn't experience any sudden urges to drag one another to the bedroom and rip each others clothes off.
…so, it seems looks can also be deceiving in the world of cheese.
It did get better with age, becoming more like a Camembert, but still far from expectation.
All in all it wasn't a bad cheese. A shame really, it promised so much, but failed to live up to its name.
Reviewed by Nick & Olympia, 2013





(3/5)
We came across this at the Sturminster Newton Cheese Festival. It was attracting a lot of attention. A sweet smelling, wet lump, wrapped in soggy vine leaves, then neatly tied up with a raffia bow… Oh, and it's washed in Brandy… which could have had something to do with its popularity.

Opening the cellophane wrapper the first thing that you notice is how wet it is. It is seriously soggy. It smells sweet and fruity, like medlar fruit and capers.

The paste is a brilliant white with the same sort of texture as a Ricotta.

The flavour is clean, fresh and sharp. There are definite hints of alcohol and fruit, but it dissipates quickly, leaving you wondering if it was ever there in the first place.

Unusually for a goat's cheese, there is no goatiness whatsoever.

All in all a very enjoyable cheese with a definite element of the unusual.
Produced by Cerney Cheese
Purchased from The Sturminster Newton Cheese Festival
Reviewed by Nick & Olympia, 2013





(4.5/5)
What's pink and fluffy, but isn't pink fluff? That's right… cheese, a cheese called Francis.

This cheese was named Francis in honour of the famous British cheesemaker James Aldridge, who's name wasn't James at all, but actually Francis. It was developed by another James (James McCall) who was in James' (Francis) employ when he was a teenager. James (not Francis) is now a fully fledged cheesemaker and has his own company (James's Cheese). Although the cheese itself is made by James Martin at Lyburn Farm.

So, in summary: James makes James' of James's cheese Francis, named after his ex-boss Francis aka. James. – Oh, it's so confusing

Right, now we've got that all sorted, the important bit:
Covered in dust pink, grey and white moulds. Francis is washed in the same culture that is used to wash Livarot and Munster. As a result, it smells very like them, strong and pungent.
Initially, the flavour is also strong, but in some strange way, not strong, becoming mellow, but with a definite presence. The texture is soft and malleable, but with an unexpected chalkiness. Its flavour is like that of its French cousins, but at the same time not. Like the history of its creation, it is confusing and complex.
Produced by Lyburn Farm
Purchased from Sturminster Newton Cheese Festival 2013
Reviewed by Nick & Olympia, 2013





(3.5/5)
From a Trappist recipe, over 1,000 years old, this distinctive sticky, orange slab is the favourite of kings, and it's not hard to see why.

It has an attractive orange rind. But… it's not coloured with an annatto stained wash like many other orangey coloured cheeses. This is the colour the the particular strain of bacteria that is grown on its surface.

As it matures, Maroilles is repeatedly turned and washed with brine. This kills off the usual white moulds, allowing a culture of orange bacteria to develop, giving it a sticky, oily texture.

It has an acrid smell, that is quite pungent, but not strong. Inside, the paste is also quite sticky and oily. A pale yellow in colour with little holes and a soft, rubbery bite.

The flavour is initially, not strong, but again, distinctly acrid and slightly bitter. However, the flavour increases as you chew. Strangely, the aftertaste is stronger still. The bitter aftertaste fades and is replaced with sweet buttermilkiness.  In some ways, it has a strong flavour, yet it is mild.

All in all, it provides a complex tasting experience that is rather hard to describe.
Purchased from the French cheese stall, Brighton station.
Reviewed by Nick & Olympia, 2012






(3/5)
Orange/pink and sticky, with a strong smell, mildly floral, buttermilk that moves towards rotting cabbage as it ages. This cheese has been the only one to breach our (supposedly airtight) cheese confinement box. Seriously, this one could easily challenge Epoisses for the smelliest cheese in the world.

This Sussex cheese is unusual because it is washed in rose water.  This gives it a typically sticky orange/pink rind often associated with washed cheeses.

The pate is soft and bouncy, scattered with little holes, with a lovely velvety soft smoothness.

It has a flavour very similar to Livarot or Munster (though maybe not as strong), with a little bitterness, like Taleggio and very subtle floral hints.

A little expensive, but very pleasant.
Produced by: The Traditional Cheese Dairy Co. Ltd., Stonegate.
Purchased from Cheese Please, Lewes.
Reviewed by Nick & Olympia.





(3.5/5)