Archive for April, 2012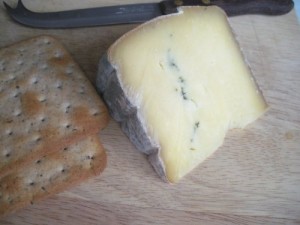 Made in Somerset, Wedmore is based on a similar recipe to Caerphilly. This cheese, on first glance, with a thin layer of chives running though its centre, is visually reminiscent of a Morbier, but slightly paler.It has quite a delicate flavour which is subtly enhanced by the occasional hint of chives and the light smokiness of this particular version.
Purchased from Field & Forrest Delicatessen, Lindfield.
Reviewed by Nick & Olympia.





(3/5)
Saint Vernier is a small round, washed rind cheese beautifully presented in a  little wooden flower shaped bowl.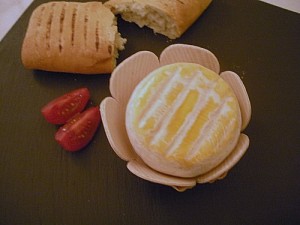 Washed in savagnin wine, this semi-soft cheese has a thick gooey interior with a lovely creamy texture.

The presentation, colour and consistency are highly attractive, but it's smell and flavour are very mild and somewhat indistinct, which, in our opinion makes it a bit of a non-entity.
Purchased from Waitrose.
Reviewed by Nick & Olympia 2012.





(2/5)
A hard whitish sheep's milk cheese, coated in a synthetic waxy inedible rind.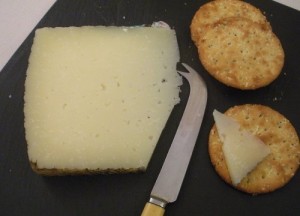 This Spanish cheese becomes almost translucent, from the outside in, as it ages so it is easy to see whether it is worth buying. Ideally, you want to look for a translucent edge about 1cm (3/8″) deep.
Biting into manchego is deeply satisfying. The slight crunchiness of the lactic acid crystals together with its firm almost wax-like texture can be quite sensual. The flavour is rich, robust, slightly nutty and embodies the essence of what you expect a cheese to be.
Great just to nibble on whilst sipping a glass of wine, but also very good melted in a warmed ciabatta with tomato, onion and olives.
This cheese is an old favourite of ours and a yard-stick by which others are judged.
Purchased from any supermarket (the quality is fairly reliable).
Reviewed by Nick & Olympia.





(5/5)
Irish semi-soft cows milk cheese with a pale orange, brine washed rind.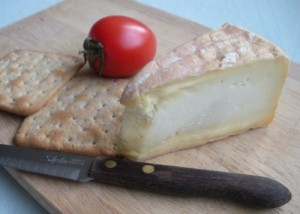 Though this cheese is quite smelly, it is smooth and creamy with a mild flavour.
A previous purchase of this cheese had a strange grassy flavour with a bitter aftertaste, neither of which were present in this latest acquisition.
Purchased from Field & Forrest Delicatessen, Lindfield.
Reviewed by Nick & Olympia.





(3/5)
Similar to its namesake, but this hard cheese is almost white in appearance.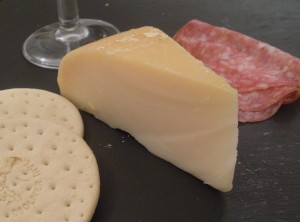 On first bite this cheese releases a pleasant goaty flavour, which soon dissipates to reveal the flavour of a good vintage gouda with the pleasing slight crunchiness of lactic acid crystals.
All in all a pleasant cheese. Something a little different, worth considering for the cheeseboard.
Purchased from Waitrose cheese counter.
Reviewed by Nick & Olympia.





(3.5/5)
Chaumes is a traditional Trappist monk style cheese. It has a soft, waxy, bright orange washed rind. It's paste is pale cream in colour, soft and rubbery in texture.
It's washed rind smell promises more than it delivers. It has a mild taste, with a slight tang. Of a similar ilk to that of Port Salut, slightly tastier, but unexciting.
Purchased from Bakers & Larners, Holt.
Reviewed by Nick & Olympia 2012





(2/5)
When we tried this in the souvenir shop at Wookie Hole, the cheese had a very strong and distinct "old damp stone" flavour. However, the piece we purchased and took home, had none of this quality.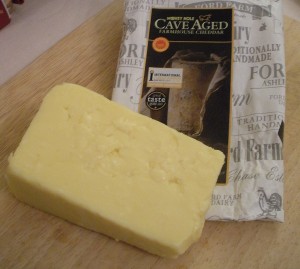 It was somewhat dissappointing. It tasted like cheddar, good cheddar, but with not a trace of that cave aged taste we had been expecting. The cheese also came with no rind or the usually expected colour variation through the slice that one would normally expect from a "real" cheddar. Though it tasted strong, but not acid with a slight trace of lactic acid crystals, it just did not seem to be authentic.
We suspect that the samples handed out in the shop are not from the same source as the cheese on the shelves.
Reviewed by Nick & Olympia 2012





(2/5)
China is not known for its cheese, and for good reason. Anyone who has had pizza in China knows this (except if it was made with imported New Zealand cheddar). It is awful. Most Chinese cheese is quite rancid, tasting like what I imagine the regurgitations of a calf might.
Ru shan, is not so bad. Sold on the streets of many towns and cities in Yunan province, this snack food is rather unusual, but interestingly tasty.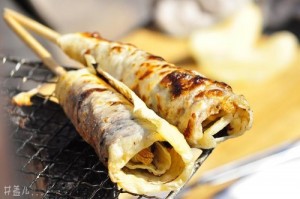 Sheets of the cheese are placed on a griddle, stretched and toasted. As the cheese starts to brown,  the vendor presses a stick into one edge. Then the sheet is smeared with jam or flavoured honey. Finally, the cheese is rolled up to resemble a lolly.
It is an interesting experience. The cheese itself is chewy with a mild pleasent taste, slightly remeniscent of haloumi. The exact origin of the sweet condiment that had been smeared over it was indeciferable. Suffice to say that it was just sweet and slightly fruity, but not overpowering.
Not a great cheese, but none the less, an interesting experience. If you ever find yourself in the south west of China, try it.
Reviewed by Nick 2008





(3/5)