Manchego
A hard whitish sheep's milk cheese, coated in a synthetic waxy inedible rind.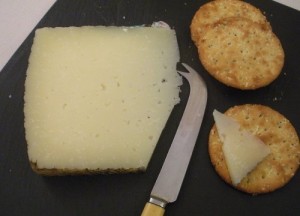 This Spanish cheese becomes almost translucent, from the outside in, as it ages so it is easy to see whether it is worth buying. Ideally, you want to look for a translucent edge about 1cm (3/8″) deep.
Biting into manchego is deeply satisfying. The slight crunchiness of the lactic acid crystals together with its firm almost wax-like texture can be quite sensual. The flavour is rich, robust, slightly nutty and embodies the essence of what you expect a cheese to be.
Great just to nibble on whilst sipping a glass of wine, but also very good melted in a warmed ciabatta with tomato, onion and olives.
This cheese is an old favourite of ours and a yard-stick by which others are judged.
Purchased from any supermarket (the quality is fairly reliable).
Reviewed by Nick & Olympia.





(5/5)